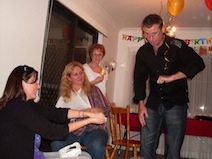 Imagine Brad Manuel the roving magician mingling with your guests in smaller groups at the cocktail hour or for pre-dinner drinks as a meet and greet at your function doing totally amazing close up magic tricks and comedy with the unique style of a world class professional close up magician. Brad makes the most mind blowing magic happen in "your" hands while keeping you laughing in hysterics at the same time!

"Sensational!.... Brad had everyone in hysterics - Delegates, Sponsors and Clients alike no one was spared!" SANE EVENT MANAGEMENT.

The emphasis is on entertainment with humour and is all about interaction with your guests, it is one of the most memorable things they will ever experience. Experience rings vanishing to reappear at the local Pawn Shop (only kidding... Maybe) linked of a necklace or sealed inside a case, see Brad pull bottles and full glasses from his shoe & yes he gets your guests to drink them! Money changes in your guests own hands without them knowing.


"Brad is by far the best entertainer we have used. His ability to interact with all level of team members underlies his significant success. Excellent and so funny, great fun!" CRADLE MOUNTAIN WATER.

Brad is internationally recognised as one of the best Roving Magicians and Roving Entertainers you are likely to ever see. With years of experience that will help make your party or cocktail function the most magical and memorable yet! You can also check out Brad's record breaking Dice Stacking if you ask for it!

Excellent, Brad was a great success for us. He had the crowd in stitches with his roaming around, it made the night. Great comedy, great magic, and last of all a great guy to get on with. BURDEKIN AREA BUSINESS ASSOCIATION.
THE LIVE INTERACTIVE ROVING MAGIC SHOW GUARANTEED TO HAVE YOUR AUDIENCE IN STITCHES... WITHOUT FAIL!

BOOK BRAD MANUEL ROVING MAGICIAN NOW Phone: 0417 724 347
CLICK HERE FOR THE CONTACT FORM